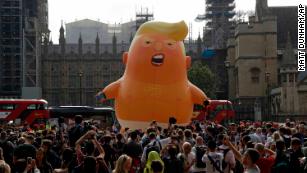 A six-meter high cartoon baby blimp Donald Trump is inflated outside the House of Commons.
London  
It flew at a height of about 30 meters (98 feet) for two hours, fluttering over Westminster Abbey and high above the statutes of prominent historical figures including Winston Churchill, Mahatma Gandhi and Millicent Fawcett.
Blimp organizer Leo Murray told CNN the giant balloon had been designed to speak to Trump "in a language that he understands, which is personal insults."
Protesters gathered from early in the morning to watch the balloon go up. "No one really wants him to be in power … he's not welcome in the UK, said Holly, a protester from London, who didn't give her last name. "It's bollocks," she said.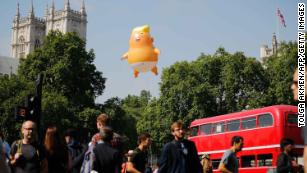 The Trump 'blimp' floats next to the towers of Westminster Abbey.